John Mayer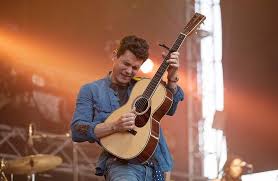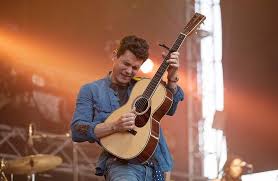 John Clayton Mayer (born October 16, 1977)is an American singer-songwriter and producer. He was born in Bridgeport, Connecticut, and raised in Fairfield.  Mayer attended Berklee College of Music in Boston and moved to Atlanta in 1997, where he refined his skills and gained a following, and he now lives in Montana. His first two studio albums, Room for Squares (2001) and Heavier Things (2003), did well commercially, achieving multi-platinum status.[4] In 2003, he won a Grammy Award for Best Male Pop Vocal Performance for "Your Body Is a Wonderland."
Mayer began his career performing mainly acoustic rock, but gradually began a transition towards the bluesgenre in 2005 by collaborating with renowned blues artists such as B. B. King, Buddy Guy, and Eric Clapton, and by forming the John Mayer Trio. The blues influence can be heard throughout his 2005 live album Try! with the John Mayer Trio and his third studio album Continuum, released in September 2006. At the 49th Annual Grammy Awards in 2007, Mayer won Best Pop Vocal Album for Continuum and Best Male Pop Vocal Performance for "Waiting on the World to Change". He released his fourth studio album, Battle Studies, in November 2009. His fifth album, Born and Raised, which saw another musical style shift, was released in May 2012, followed by his sixth album Paradise Valley in August 2013. He has sold over 14.8 million albums in the U.S. and over 20 million albums worldwide.
Mayer's career pursuits have extended to comedy, graphic design, television hosting, and writing; he has written pieces for magazines, most notably for Esquire. He has performed at charity organizations and participates in various environmental causes.
Australian artist Guy Sebastian invited Mayer to collaborate on three songs from his 2009 album Like It Like That. Mayer also played guitar on the title track of Crosby Loggins' debut LP, Time to Move, released on July 10, 2009.
On July 7, 2009, Mayer performed an instrumental guitar version of Michael Jackson's "Human Nature" at Jackson's televised memorial service.
On November 17, 2009, Mayer's fourth studio album, Battle Studies, was released and debuted at number one on the U.S. Billboard 200 album chart.The album consists of 11 tracks with a total time of 45 minutes. The first single from the album, "Who Says", was released on September 24, 2009 in advance of album, and was followed on October 19 by the single "Heartbreak Warfare" and the single "Half of My Heart" released on June 21, 2010. Despite the album's commercial success, critics were mixed with their praise; while some reviews were glowing, calling it his "most adventurous", others called the album "safe" and noted that "Mayer the singer-songwriter and Mayer the man about town sometimes seem disconnected, like they don't even belong in the same body."Mayer admitted to Rolling Stone that he thought Battle Studies was not his best album.
Following his controversial interviews to Playboy and Rolling Stone about Jessica Simpson and Jennifer Aniston, Mayer withdrew from public life. He later explained on The Ellen DeGeneres Show, "I lost my head for a little while and I did a couple of dumb interviews and it kind of woke me up. It was a very strange time and it sort of rocketed me into adulthood. It was a violent crash into being an adult. For a couple of years, it was just figuring it all out, and I'm glad I actually stayed out of the spotlight."[60][61][62]
Early reports indicated that the follow-up to Battle Studies would be called Born and Raised, and would be released in October 2011.
On September 16, 2011, Mayer posted on his blog that his new record, Born and Raised, was being delayed due to granulomas discovered in his throat. The granulomas were found next to the vocal cords and were said to be treatable.[64] Mayer described this as a "temporary setback" and added that recording and mixing of Born and Raised was entirely finished except for a few remaining vocal tracks.[65] He told, "I did a lot of therapy, like anti-acid reflux, and it didn't work, then I went on vocal rest. No alcohol. No spicy food. No talking. Most of September I wasn't talking at all. I'd have a Bluetooth keyboard, and someone would have an iPad to read what I type. I had to point to menus at restaurants. People look at me like I'm crazy." On October 20, 2011, Mayer updated his fans about the treatment of his throat granuloma, announcing that he "had surgery this afternoon to remove it and am now on complete vocal rest for a month or more", during which he plans to "travel the country, look, and listen."
The first single from Born and Raised, called "Shadow Days" was released on February 27, 2012. On February 28, 2012, John Mayer released the track listing for the album and announced that Born and Raised would be released on May 22, 2012. He described it as his "most honest" album.
On March 9, 2012, Mayer announced on his blog that due to the return of a serious throat condition, he had been forced to cancel his tour and refrain from all singing indefinitely.[68] Because the surgery he had in October 2011 did not work as expected, Mayer said he would have to undergo the surgery again. He had the surgery in late August 2012 and later posted a message on his Tumblr account explaining that he would not sing for several months.  Despite not being able to sing, Mayer played the guitar with other artists. He appeared in September 2012 on Saturday Night Live where he played the guitar while Frank Ocean was singing. He also played with the Rolling Stones during the band's gig in New Jersey in December 2012. In January 2013, Mayer recovered sufficiently and returned to the stage during a benefit concert in Bozeman, Montana after almost two years of absence. In April 2013, he performed at the Crossroads Guitar Festival and at the 28th Annual Rock and Roll Hall of Fame Induction Ceremony, where he inducted Albert King.He was also among the lineup of the New Orleans Jazz & Heritage Festival, which took place later that month.
Paradise Valley (2013–present)
Following his recovery from vocal surgery, Mayer returned to the studio. On June 18, 2013, Mayer announced from his Facebook page that his sixth album,Paradise Valley, would be released on August 13, 2013. On the same day, he released a lyric video for the new album's first single, "Paper Doll", on his YouTube page. The release date was later changed to August 20, 2013. "Who You Love" featuring Katy Perry followed as the album's third single and a music video was released on December 17, 2013 for the song.The album, which also includes a collaboration with Frank Ocean, was met with positive reviews from music critics. Mayer embarked on a tour, his first in three years, in support of Born and Raised and Paradise Valley.