The Journey of A Song 60's and 70s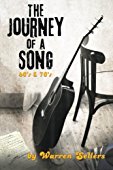 Warren Sellers has recently written a book called "The Journey of A Song 60's and 70's" and it features some insightful behind-the-scenes tidbits about some of the greatest songs of our generation, including "Woodstock" written by Joni Mitchell, and inspired by, not her being there, but by her watching it on TV because she had ostensibly committed to an appearance on the Dick Cavett Show that conflicted with the event itself. We've been playing excerpts from that Dick Cavett Show which featured Joni as well as Stephen Stills, David Crosby and members of Jefferson Airplane.
Gain some groovy insights into some of the most beloved songs of the early Laurel Canyon era as well as big hits like "Save The Last Dance For Me" and the Beatles' "Here Comes The Sun".
Here are a couple reviews:
Little mysteries solved…about songs I've always wondered about…Warren's found a great way to let us in on how these songs came about…Makes me want to listen to them all again…..
Says Jeff Silbar – hit songwriter who wrote the Grammy winning song "Wind Beneath My Wings"
With an empathic understanding of the creative process, author Warren Sellers mirrors the mysterious alchemy of songwriting with intuitive prose, deep compassion and a first-hand knowledge of the enigmatic artistry of those who can craft an extraordinary song."
Says Dan Kimpel – Song Biz Editor, Music Connection Magazine
https://www.amazon.com/Journey-Song-60s-70s-backstory/dp/0990319008/ref=sr_1_1?s=books&ie=UTF8&qid=1516672195&sr=1-1&keywords=journey+of+a+song+warren+sellers