New Tracks Laurel Canyon Radio – Week of April 15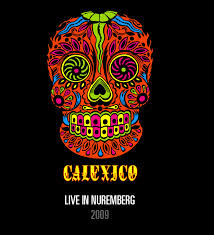 New Tracks – Laurel Canyon Radio – Week of April 15
The taxes are filed, the refunds are spent, the weather is getting warmer…and what have we added to our rotation this week?
Falling From The Sky – Calexico
http://www.casadecalexico.com/news/
Typically more interested in creating atmospheric Americana sounds than pop hits, Calexico's new "Edge of The Sun" splits the difference with a more uptempo and approachable set of tracks, this one anchored by the vocals of Band Of Horses' Ben Bridwell.
"Tell Her You Belong To Me" – Beth Hart
From early days as the earnest folk-pop warbler who came to prominence with the LA-hating "LA Song  (Out Of This Town), Hart's career has veered from the singer-songwriter into glossier pop work and back.  Her more recent musical output has been informed by the jazz guitarist and tour mate Joe Bonamassa.  Her new release finds her on sure commercial footing between the folkie and the blues sound.  This "stick up for my man" track strikes a good balance between vulnerability and assertion.
"For To Make A Lead Weight" – Husky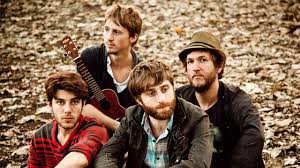 http://www.huskysongs.com/news/
Melbourne Australia's Husky released their sophomore disc "Rucker's Hill" last October and hasn't seemed to grab the traction their first album did.  Yet, there intricate CSNY-ish vocalizing and warm and lean acoustic sound is more insinuating than ever.  We've added this quiet understated track, especially in evening rotation for you night owls.
My Ol' Radio – Malcomb Holcombe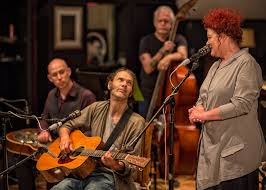 This recent "RCA Sessions" compilation reminds us of the singular voice Mr. Holcombe has traded in his two decades spanning career.  Late last here he returned to Nashville to record all new versions of songs covering his 10 album career, and this gravelly-voiced update with great harmony vocals from  Siobhan Mayer-Kennedy ad great depth to an already great track.
Maria Daines – "Lost In Blue"
https://www.cdbaby.com/cd/mariadaines8
Indie Maria Daines gets our attention on this evocative rocky-bluesy track.  Maria has done extensive work in the animal rescue filed as well, so it's fitting we include a picture with what we presume is her beloved pit.