New Tracks Laurel Canyon Radio – Week of February 17, 2017

New Tracks on Laurel Canyon Radio –  February 17, 2017
Remember when we were kids and we got BOTH Washington and Lincoln's birthday off even though they were only 10 days apart?  Well, make it a long weekend with this great set of new tunes on Laurel Canyon Radio:
"I'm Still A Man (Lord Have Mercy) – Willie Sims
This slow burning, retro-blues number simmers out of the jukebox in the Jim Jarmusch film "Paterson" and if a song could steal a scene, this is the one that would.  Thematically linked to the plot of the film (a man emasculated when his girl leaves him), it burns through the scene like a hot poker and drifts on into the next scene still simmering.  Deliberately matching up against old blues and organ classics on the "Paterson" soundtrack, it would be easy to believe this was a late 50s/early 60s Stax classic.
"Midnight Highway" – Quinn Sullivan
Wearing the classic rock mantle in this hippity hoppity Bad-And-Bougie generation is one thing, doing at the tender age of 17 is quite another story.  The New Bedford, Mass singer-songwriter who appeared nine years ago (!!) on Buddy Guy's Grammy nominated blues album "Skin Deep".
Quinn Sullivan has been a music professional for more than 75 percent of his life. He's shared the stage with Buddy Guy, Eric Clapton, Los Lobos, The Roots, Derek Trucks & Susan Tedeschi and Joe Bonamassa, and he opened for B.B. King, who later invited him to play his treasured "Lucille" guitar. He has performed on concert and festival dates throughout the United States – including at storied venues like Hollywood Bowl, RFK Stadium and Madison Square Garden – traveled overseas – performing at both the Montreux Jazz Festival and India's Mahindra Blues Festival – and played several editions of the Experience Hendrix Tour, backed by Jimi's original bassist Billy Cox.  He's also appeared on national TV, with guest appearances on The Tonight Show with Jay Leno, Oprah, Late Night with Jimmy Fallon, Conan and twice on The Ellen DeGeneres show.
Yes, Sullivan has packed some extraordinary experience into his decade-long career, and that's even more remarkable when you consider that he's only 17. His third studio album, Midnight Highway, was produced by multi GRAMMY® winner Tom Hambridge – who also does double duty as Quinn's studio and road drummer – and will be released on January 27th in North America, and on March 24th in the rest of the world.  The album is yet another milestone in Quinn's extraordinary journey, which began with him jamming with the kids music combo Toe Jam Puppet Band at age three, appearing on Ellen when he was six, and being taken under the wing of blues legend Buddy Guy at age eight, whose protégé he remains to this day.
Quinn's age and enduring relationship with Buddy Guy is certainly notable, but so too is his total dedication to his craft. "I wanted to see how far we could get musically on this album. I had a lot more creative input on this one and was more active in writing, so it's something of a mixture.  I didn't want to completely break away from the blues – that'll always be my home ground – but I just wanted to stretch out. Mastering the vocals was important too and was the result of a lot of playing and touring, and studying with a vocal coach.  I'll admit I hit an awkward stage with my voice when it was changing a few years ago, but I like the way things have worked out so far."
Quinn confides, "My major goal as an artist is to get into songwriting more," and he's well on his way with Midnight Highway, for which he had a hand in writing three of the stand-out tracks, "Eyes For You", "Lifting Off" and "Going."  One of the other songs that Quinn tackled is George Harrison's "While My Guitar Gently Weeps."  While Quinn will forever be rooted in the blues, he's extremely passionate about The Beatles, so every effort was made to replicate the Harrison classic as faithfully as possible.  Producer Tom Hambridge remarked, "We really tried to make it sound like it was off the White Album, so we researched everything about the track, where the mic placement should be, how to get the organ to sound like the original. Quinn is such a huge Beatles fan so, of course, he really loved the process."
The album was recorded primarily at Nashville's prestigious Blackbird Studio with some of the greatest players in Nashville, including many of the same musicians who played on the Buddy Guy albums that Hambridge produced. These include bassists Michael Rhodes and Tom Macdonald, guitarist Rob McNelley, and keyboard player Reese Wynans, a veteran of Stevie Ray Vaughan's Double Trouble.  Hambridge notes, "Quinn was anxious to make an album the way I make those Buddy Guy albums, and he did, in fact, tear it up.  Quinn felt the mojo and he 'brought it' in a big way."
As a young child, Quinn was brought to numerous festivals and concerts by his music-loving parents.  He was the "kid with the guitar " in the audience, who would strum along with what was happening on stage.  Through videos, Quinn became enamored with Buddy Guy, so his  Dad made arrangements for him to meet his idol when Guy came to his hometown.  Backstage before the show, he asked Buddy to autograph his guitar which, of course, he did — but on condition that the boy play it for him.  That led to Buddy calling Quinn onstage to join him during his set and an unlikely, though solid bond was then formed between the great Chicago bluesman and the eager youngster from Massachusetts.
Tom Hambridge calls Quinn "a sponge who soaks up everything that's around him," adding, "he's listening all the time and he just so happens to be around great artists.  Every time he plays, it's a little deeper. Buddy Guy is, of course, his mentor, so he channels Buddy's over-the-top reckless abandon." That's completely understandable, as Buddy has, more than once, advised Quinn, "Just go out there and show them why you're here… make them remember you."
Off stage, Quinn is well aware of the unique opportunity he's been afforded and is focused on music as an ongoing pursuit.  He contrasts his experience with many of his contemporaries' – "They're struggling to come up with what they're going to do when they're out of school, but I've decided this is what I'm going to be doing for the rest of my life."
."
.
"Slowly Faded Out" – Little Country Giants
Delivering pure, simple, and timeless rustic songs touching on country, bluegrass, and rural blues, husband-and-wife duo Cameron Federal and Russell Cook produce artful work on par with the finest of the expansive genre. 
While they began playing together upon meeting in 1998, the duo formed Little Country Giants in 2004 following years of travels and skillfully honing their songwriting craft together from Athens, Georgia, to San Francisco, and back to the north Georgia mountains. Voted Atlanta's Best Traditional Folk Act by Creative Loafing, the group has wowed audiences across the country, performing at some of the finest folk venues and festivals. 
Influenced by such disparate artists as Billy Joe Shaver, Mahalia Jackson, Billie Holiday, Grateful Dead, southern old-time, and traditional country, LCG's emotive and powerful delivery distinguishes them from the pack. "What I really love about music is the human connection to emotion," shares Russell. "Good music is felt music, and it seems like that raw, stripped down sound of old blues or field hollers or mountain music or country gospel have a real, unadorned connection to the reasons why people are playing and singing in the first place."
"I'm a really big fan of acoustic blues and that meeting point between country and jazz that happened with Jimmie Rodgers and Bob Wills," says Cook. "I also love anybody that can pull off an old standard in a different context, like Willie Nelson's 'Stardust' or any of Ray Charles' country stuff. A good song is a good song, no matter how you dress it."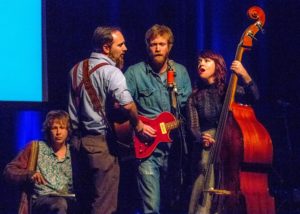 It is this balance of songwriting, gorgeous voices, lyrical scope, and tasteful instrumentation which allows the Little Country Giants, rooted in old time acoustic tradition, to stretch from soft love songs to shuffles, country to delta blues in a memorable collection that will melt your heart and call for your companionship time and again. These songs taste like the south, rich with the sounds of Georgia's roots and the musical seeds of America grown. After all, they're giants. -Adam Klein, Cowboy Angel Music
In spring of 2012 Russell Cook worked in the Stephen King/ John Mellancamp/ T. Bone Burnett musical, the Ghost Brothers of Darkland Country at the Alliance Theater in Atlanta, GA.
The Little Country Giants music is featured in several award winning independent films, including Pushing Up Daisies, Freelance, Grow, Blind Tiger: The Legend of Belltree Smith, and Esposito.
The Little Country Giants recently recorded their fifth album,  "Dead Reckoning" (Feb/2016), in their North Georgia historic farmhouse, with ZAC recording engineer Tony Terrebone, and long time friend and producer Dax Rossetti, who also produced their first album, Breaking Hearts and Living Free.  "Dead Reckoning", was inspired by the issues and the struggles surrounding the constant cycle of life and death, love and heartache, and like a sailor lost at sea, using dead reckoning to navigate through it all. The album artwork was created by award winning graphic novelist, Emily Haworth-Booth. 
"Unapologetically Appalachian and unashamed in sadness, the Cooks' songwriting preserves the poetry of a disappearing rural America." David Eduardo of Flagpole Magazine
"Queen" – Dead 27s
This groovy little rock rave-up could have come out anywhere between 1965 and yesterday, and fortunately for us it has come to our most happy attentions.  While the unfortunately named Charleston SC pop rocker could have come up with a better band name, their debut album "Ghosts Are Calling Out" redeems the poor moniker choice.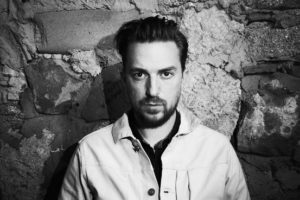 "A Little Respect" – JD McPherson
Retro-billy revisionist JD McPherson appears to be that one guy who could turn Erasure's synth pop smash into a Memphis-Motown hoedown.  Begging for a big Elvis vocal as opposed to the amiably reedy vocal from Tulsa's roots it-boy, it is a minor quibble with a lush arrangement that by yards improves on the hermetically sealed synthetic box the originally came painted in.  From the new Amazon February playlist series, which in itself is a welcome addition of rootsy favorites and unexpected cover tunes.