New Tracks on Laurel Canyon – November 28, 2017

New Tracks on Laurel Canyon Radio – November 28, 2017
I hear those sleigh bells jingling, tin-tin-tingling too! Christmas can be a tough time to release new music, especially non-holiday music. There was a time, back in the day, whe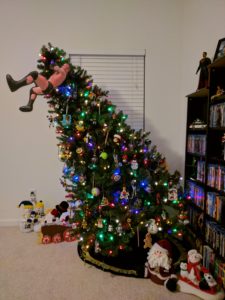 n an established artist released a new album for the holidays and then sat back and watch the albums fly off the shelf and end up in stocking (well, cassettes, anyway). Digital music gifting is a trickier affair and not one that yields the same outcomes – most people are given a gift card and that diffuses picking out an album as a gift for someone – plus its hard to physical GIVE a specific digital album. Well, come hell or high water, there is still some great music coming out this week (and well into 2018) and here are five of them….hohoho!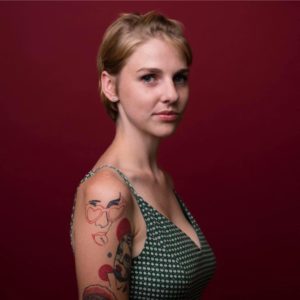 1) "If I Could Make You My Own" – Dori Freeman
The Galax, VA native Dori Freeman has made a lot of You Tube videos singing traditional Appalachian music (many of them quite good), but the lead single from her second album "Letters Never Read" (once again produced by Teddy Thompson) easily stands up as a thoroughly modern clear voiced country pop single (circa 1975 anyway). Ostensibly sung to a child (in the video) the production is crystal clear and Freeman's voice is a whirl of devotion and longing. Beautiful song that everyone should hear!
2) "Oh Babe It Ain't No Lie" – The Early Mays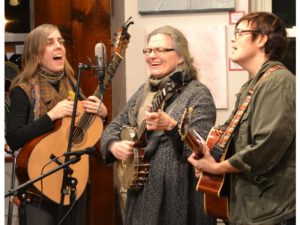 This Kickstarter funded album is the second from Applachian bluegrass folksters The Early Mays. Emily Pinkerton, Ellen Gozion and newest member, Rachel Eddy,share songs based in a love of American tradition, while also exploring their own creative voices. All three are celebrated solo artists who bring their rich and carefully honed craft to The Early Mays. Emily weaves folk, classical and world music traditions together in her songwriting. She recently won a New Music USA grant to compose a song cycle for banjo and chamber ensemble, scheduled for release on New Amsterdam Records, November 2017. Ellen is an accomplished ballad singer and visual artist who has taught at the Augusta Heritage Center, and was an American Music Abroad finalist with the US State Department. Born and raised in West Virginia, Rachel is a prolific performer who has shared the stage with musical legends including Tim O'Brien, Uncle Earl and Bruce Molsky. She moved back to the US last year after 6 years of living and touring in Europe.
There is an unsurpassed magic that springs from entwined and entrancing vocal harmonies. The Early Mays love the camaraderie of the studio, the road, and rehearsals, and you can feel the gratitude radiate from whatever stage they are on. You'll never leave a show without carrying a little bit of that warmth away with you."
3) "Dallas Love Field" – Henry Jamison
There are so many songs about drinking. There are probably nearly as many about giving up. But there aren't all that many songs about one modern situation: your lover's new-found sobriety, and where that leaves you. A drinker? Supportive? In denial? Or, as Henry Jamison, an insightful Vermont singer-songwriter, puts it elliptically on a song called 'Dallas Love Field': "Black as the kettle's the hypocrite pot/ Often than more, more often than not."
Jamison is a prematurely bearded, bespectacled twentysomething who is just one EP old. His debut album, The Wilds, is that rare thing: an unshowy, literate gem that sounds a little like a lot of people – Sufjan Stevens, Bon Iver, Leonard Cohen – but carves out a niche all its own.
'The Jacket' multiplies Cohen by Stevens, finding passion refracted in everyday things – the air con of the grocery aisle, the light coming off flatscreen TVs. The Wilds are both the wilds of New England and the darkness inside. His songs take place in baseball fields and in the abstract expressionist rooms of museums.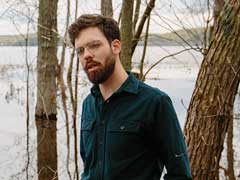 Jamison is also a very unlikely Spotify star. Real Peach, the catchy, intellectual centrepiece of this album, came out on The Rains EP (2016) and became something of a runaway success on the platform: 20m streams and counting. Normally you look to Spotify for the next R&B siren, but it looks like it now breaks troubadours too – even writerly types who sprinkle words like "elegiac" and "the fallacy of form" into a song about how his "baby is a real peach". Jamison, it turns out, is descended from the 14th-century poet John Gower – a contemporary of Chaucer – and the US civil war-era songwriter George Frederick Root. But he is a resolutely modern operator.
The song 'Sunlit Juice' was directly inspired by Jamison's girlfriend's sobriety. He, meanwhile, is still "sippin' on the sunlit juice". It's a tune that goes down easy – a few banjo notes here, but the kind of rhythmic delivery there that hints that Jamison is working in the 21st century; there are subtle electronics at play throughout.
Another song, 'Through a Glass', Jamison describes as "an ode to delirium" – a bitter one that bends a vision of a lover through the prism of a bottle. Even worse, he's losing her to "a six-five ex-Marine". 'Dallas Love Field', meanwhile, introduces a pair of lovers – maybe the same ones, maybe not.
"When we met we were two bright-eyed alcoholics," sings Jamison, "In the springtime in the Year of Our Lord/ As we glanced the gilded edges of our identities." They would ride their bikes to the dive bar at the edge of town, he reveals. But what will they do now? If The Wilds doesn't quite answer that question, it is unflinching in examining, time and again, who we are to each other.
4) "Eschaton" – Darlingside

Just over two years ago, a little know four piece folk group from Boston came on the scene with an album that cemented itself into the collective consciousness of our listeners. Darlingside's Birds Say was a standout amongst the indie-folk scene with its rich vocal harmonies, warm musical textures, and stunning songwriting.
Two years later, the band returns with a new song, "Eschaton" along with an announcement of a new album, Extralife, out on February 23rd.
According to various definitions, eschaton refers to the climax of history – the end of the world – and has been used in various political and religious contexts. On the song, "Eschaton" reveals a bold new musical sound for the band's return. Over pulsing electronics, the band's signature harmonies soar as they sing "I hear the eschaton / I see our stripes on floating ground / No matter what we've been, we are the upshot now."
With pressing freshness, it sounds like a cross between Brian Eno's "St. Elmo's Fire," and Crosby, Stills & Nash's "See The Changes." Listen below.
5) "I'll Be Your Pilot" – Belle And Sebastian
Belle and Sebastian returned this past summer with their first new song in two years, "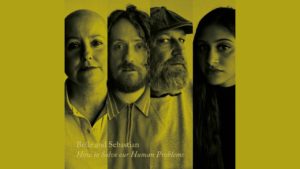 We Were Beautiful". Add that to knock-out sets at festivals like Outside Lands and Panoramaahead of recently revealed 2018 tour dates, and fans have understandably been anticipating more news about upcoming releases. Today their fans have been answered, as the Scottish indie outfit has announced plans for a three-part EP series.
A trio of five-track EPs all under the umbrella title, How to Solve Our Human Problems, will be released one month apart on December 8th, January 19th, and February 16th, respectively. They will also all be collected in a 12-inch vinyl box and compilation CD set for February 16th.
"We Were Beautiful" serves as the lead single from the project and is featured on How to Solve Our Human Problems — Part 1; the band has also shared a new track from Part 2 called "I'll Be Your Pilot". Take a listen to the sweet and swaying song below.
According to a press release, How to Solve Our Human Problems is, at least in part, a way of confronting the negativity in the world with a gentle positivity. "It's so easy to get up and condemn this politician or that act. But now I have this intrinsic notion that anger is a bad thing," says frontman Stuart Murdoch. "So how do you respond to what's happening in the world? What's happening in the world has always happened. There's always been cause to be angry. So let's consider not being angry."
For the album art, Belle and Sebastian invited 50 fans into a studio located in London's Belsize Park, where they were each photographed by Murdoch. They were also asked the question, "How do you solve your human problems?", and all their answers were recorded. How those recordings will tie into the EPs isn't yet clear.