New Tracks on Laurel Canyon Radio – March 21, 2016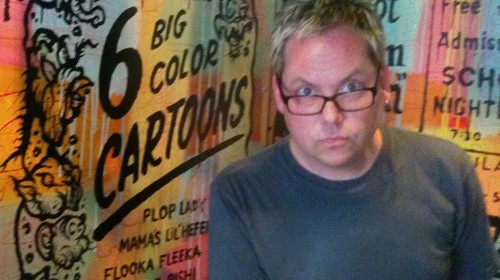 New Tracks on Laurel Canyon Radio – March 21, 2016
Spring is upon us!  El Nino has given us somewhat of a respite! We are getting used to the sound of President Trump!   Well two out of three ain't bad.  We've got some great new tracks we wanted to share with you.
Recently anointed Academy Award winner Sam Smith drops this fizzy blue eyed version of the Tracy Chapman hit on us, proving this guy can do no wrong.  From the BBC Radio 1 Live series, we can hardly get enough of the oft remade but only recently equaled quality of the original.
"The Buddha's Belly" – Cliff Hillis
A nerd boy mash-up between John Lennon and a Barenaked Ladies cover band, the Philadelphia based singer songwriter Cliff Hillis, on his just out "Love Not War" ep has crafted an instantly hummable/strummable pop gem about aspiring to greatness and wealth.  Looks like Mr. Hillis took his turn.
Andrew Bird's ninth solo album "Are You Serious?" comes out on April 1, but if the lead single "Capsized" is any indication, we'll be listening to a sunnier, poppier Bird this spring.
"Pining" – Parker Millsap
This 24 year old singer-songwriter from Oklahoma drops his debut album "The Very Last Day" this Friday and the lead track "Pining" has been all over radio, including a great interview with the down-to-earth old soul millennial on NPR last week:
"It's not the end of the world" is a thing people say to place inconveniences in perspective, a reminder that a rush-hour fender bender doesn't belong to the same category of catastrophe as nuclear or biblical apocalypse. Doomsday scenarios seem so far removed from the day-to-day that pop culture treatments of Armageddon — from Earth-atomizing special effects in big screen blockbusters like War of the Worlds, The Day After Tomorrowand, yes, Armageddon to end-times visions unfurled in the ominous Christian fundamentalist fiction of the Left Behind series — can make for violent, alien spectacles.
Leave it to Parker Millsap, one of the most arresting and puckish young singer-songwriters to emerge in the Americana scene this decade, to turn the jarring nature of apocalypticism on itself in the most enthralling way. The story goes that he started writing for his new album, The Very Last Day, in the midst of a bleak Oklahoma winter and, instead of seeking sunny diversion from his surroundings, embraced the grimness, binge-watching The Walking Dead and reading Cormac McCarthy's The Road. But Millsap didn't emerge from that season with quite the cataclysmic song cycle you'd expect.
In album opener "Hades Pleads," a frenetic jump blues tune, he channels the animalistic lust of Greek mythology's ruler of the underworld, panting, prowling and ravenous. Several songs later, in the genteel folk-pop number "Jealous Sun," Millsap sizes up the sun as a romantic adversary: "I can see how heaven could be lonely," he croons. "But can't he find someone who ain't my only?" His unsettling reading of the oft-recorded sanctified blues classic "You Gotta Move," with his swooping, theatrically extended howls and eerie ebbs, transforms the song from an exhortation to answer God's call into a warning to avoid a sinister divine force. In the vividly detailed narratives "Heaven Sent" and "Hands Up," the 23-year-old delves into the troubled minds of a preacher's kid who's just come out as gay and an ex-soldier with PTSD and mouths to feed, explaining how their experiences with religion have shaped, or even warped, their perspectives.
Then there are Millsap's wonderfully imaginative takes on the end times. His Appalachian folk tune "Tribulation Hymn" tells the story of a pitiful soul grappling with the realization that his sister's been raptured and he's been left behind. Millsap's performance is deliberately somber and knowing, removing the sting from a situation that could be a true believer's worst nightmare. The lurching, boozy title track proves what a prankster he can be, giving his listeners a droll, danceable doomsday prophecy. "When I see that cloud," he sings, "Gonna sing out loud, lift my hands and say, Praise the Lord! It's the very, very, very last day."
The sole fear to which Millsap cedes ground is far more down-to-earth: being without the person you love in the here and now. Maybe she's just heading out for the day ("Morning Blues"). Maybe he's driven to confess the extreme measures he'll take to make her happy, as in the doo-wop-inspired "Pining." Or maybe they both need affirmation that they're not alone in chafing at a conservative regional religious culture ("Wherever You Are").
By the end of these 11 tracks (which he recorded with his agile, rockabilly-redefining outfit and coproduced with Gary Paczosa), Millsap has pulled off a downright remarkable feat. He's confronted the power of collective belief and orienting myth, an endeavor made all the more affecting by his subversive use of language learned in his Holiness-Pentecostal past and his willingness to engage worldviews that provoke postmodern discomfort. He also brings ultimate and everyday concerns into conversation with each other. It's an apocalyptic thriller, all right — but one of an entirely different breed.
We've included Mr. Millsap's recent KEXP performance here!
"Finery" – Penny & Sparrow
The lead track from the album "Let A Lover Drown You", Finery is a lushly arranged, beautifully produced and sung ballad from Nashville based Penny & Sparrow.   Of writing the song, Penny & Sparrow tell American Songwriter:
"In our personal lives, we hold integrity in high regard. The desire to be the same exact person in front of anyone, or in any situation is so strong in us that we end up writing about it a ton.
Honestly, the song 'Finery' is a retelling of 'The Emperor's New Clothes.' We believe every single moment you aren't yourself is a moment missed. Every time you feel the need to slip skin & cater to folks is a crossroads. So if you spend (like we have) a bunch of time being somebody other than yourself, it's hard as hell to believe ANYBODY that tells you they love you. Because, in that instance, you don't know which costume of yours is getting the compliment. On the other hand, if you decide to forgo playing dress-up & just be yourself, then when the folks near you say they love you, you might just believe em…
Hell, if anybody knows the fullness of your bad side & sticks around, that's gotta be about the closest thing under the sun to unconditional love. And we think everybody wants that. Love without an escape hatch is something to fight for. So we wrote "Finery" from the perspective of someone who knows you fully, and still decides to stick around."