New Tracks On Laurel Canyon Radio – October 24, 2017
New Tracks on Laurel Canyon Radio –  October 24, 2017
Celebrating three years on the air, we're just as excited as the day we played our first song (we don't even remember what it was) to turn you on to the latest music that gives you that same feeling on the back of your neck as the music of the Laurel Canyon heyday did.  That's very different from being an oldies station or a tribute station, mind you.  We're still invested in promoting new artists and old, and we don't trip over ourselves if a seminal artist doesn't deliver to material that's up to snuff.  We want to continue playing the best music, new and old, from cherished artists old AND new.    And, of course what we added this week is a great sampling of what we're loving currently and is a mish-mosh of artists from across the generations.
"Before It Gets Better" – Jason Morton & The Chesapeake Sons
If this track piles on every imaginable catchy thing from the last twenty years, who are we to blame them?  From the opening nimble "Over My Head"-guitar shuffle to the jammy, prog-funky Bruce Hornsby keyboard break, the Burrito inspired chorus harmonies and  the Marshall Tucker southern fried guitar picking party that ensues, the Chesapeake Sons say they've been together since 2004, so where have we been?  With a website under construction (you had thirteen years, fellers!) and some very local gigging planned in the Tennessee area, we are hoping for one of those long brewing overnight sensations from Jason Morton and Brett Wilmer.
"Patchouli" – Squeeze
Yes, that Squeeze, boys and girls.  Always superior songwriters, the newly reunited and kiss-and-make better duo of Glenn Difford and Chris Tilbrook churned out some of the grooviest pop new wave of the late 70s and early 80s only to find these feuding Beatlemaniacs at odds with the demand for the mega hooks that seemed to flow in endless supply.  One gets the impression that their skill as songwriters have always suffered at the lack of intriguing production value around them.  Well they are back with an intriguing set of new tracks "The Knowledge"  including this free-wheeling  string and piano infused with the basso profundo of Tilbrook with a trickier set of instrumentation and backing vocals that signals a step forward for artists who would rather chuck it all then confine themselves to the oldies circuit.
"Your Heart Belongs To Me" – Jerrod Dickenson
This Waco-based "ginger" teams up with his wife, Claire (presumably)  for this beautifully rendered duet from his new Decca release "Ready The Horses".  With a voice as evocative as Tom Waits without all the gravel, there's plenty to love on this album, but this love song takes the cake!
"Have I Got Blues For You" – Snowy White and the White Flames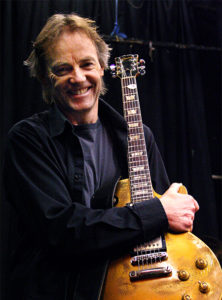 From the brand spanking new album reunited, Snowy White (of Thin Lizzy and Roger Waters fame), comes out swinging on a very contemporary sounding album filled with some great blues standards.
Snowy White is one of a handful of classic blues-orientated British electric guitar players – musicians whose sound, technique and style has echoed the originality of the blues with the excitement of contemporary rock.
At the age of eleven he first heard the urban blues sound that had been emanating from the United States, people such as BB King, Buddy Guy, Otis Rush and Albert King, and was immediately aware that this was the music that he wanted to incorporate in his playing. He has developed his own style of 'English ' blues, a combination of clear, clean blues phrases and harder-edged riffs that are a recognisable feature of his very personal songs.
Arriving in London in the early seventies with the classic 'few pennies in his pocket' he gradually made a name for himself among the local musicians and became respected as a tasteful player and an easy guy to get along with.
In 1974 he toured the east coast of America, getting as far south as New Orleans and discovering that he thoroughly enjoyed being 'on the road'. He had by then become friendly with the now legendary English blues guitarist Peter Green and they spent a lot of time jamming together.
During the mid-seventies Snowy played on various sessions, developed his skills in the studio environment, and started writing his own material.
In the Autumn of 1976 he was invited to tour America and Europe with the Pink Floyd as their first augmenting musician, a gig which took up most of his time throughout 1977.
In 1978 the band's keyboard player Rick Wright asked him to play guitar on his solo album, entitled 'Wet Dream,' which he recorded in the South of France.
In 1979 Peter Green decided to head for the studio once more and invited Snowy along to jam. The result was the album entitled 'In the Skies', now something of a collectors item.
He was then asked by the Pink Floyd to go to America to rehearse their new show entitled 'The Wall', and, at the same time, the rock band Thin Lizzy invited him to become a full-time member. So after the completion of the Floyds' US dates he returned to England and went straight into the studio to record his first Thin Lizzy album 'Chinatown'. This album includes some songs co-written by Snowy, notably the title track. Two and a half years of world tours and recording with the band followed, including the making of Snowy's second album with them, entitled 'Renegade'. Snowy again co-wrote some of the songs and the title track. After this long period of work he decided that it was time to do his own thing and quit the band in 1982.
In the following twelve months he got together with musicians that he had known and admired for a long time – drummer/percussionist Richard Bailey, keyboard player Godfrey Wang, and his good friend for many years, bassist and producerKuma Harada. Together they came up with Snowy's first solo album, 'White Flames.' A single, the timeless 'Bird of Paradise',written by Snowy, which was taken from the album, became an international hit.
However, the idea of becoming a 'singles' artiste, with the consequent concern about where the next hit record was coming from, did not appeal to him, and he took a break to rethink his musical direction. During that time he put together a gigging blues band, 'The Blues Agency', with drummer Jeff Allen, his old friend Kuma on bass, and, as he wanted to concentrate only on playing the guitar, singer and harp player Graham Bell. Between 1986 and 1989 the band played in the UK and Europe, and recorded two albums, 'Change my Life', followed by 'Open for Business' (which was released in Europe as 'Blues on Me'.)
In June 1990 Roger Waters, having split from the Pink Floyd, asked Snowy to perform with him on the spectacular 'The Wall' show in Berlin.
In 1991 Waters again called upon Snowy, this time to play at the 'Guitar Legends' concert in Seville as part of Expo.
After this concert Snowy decided that it was time that he returned to the mainstream of things so he set about putting down songs that he had been writing during the previous few years. The result was the album entitled 'Highway to the Sun'. Recorded in the Summer of 1993 it contained ten original songs plus a version of Peter Green's 'I loved another Woman', a long-time favourite of Snowy's. The album also has guest appearances by Chris Rea ( slide guitar on the title track), David Gilmour and Gary Moore. It also introduced two new brilliant Dutch-Indonesian musicians, Juan van Emmerloot (drums/percussion) and Walter Latupeirissa(bass and rhythm guitar). Kuma Harada also played bass and rhythm. John 'Rabbit' Bundrick featured on keyboards. The video of the title track has Chris Rea guesting on slide.
'Bird of Paradise' then came back into the picture when KLM airlines decided to use it on their new TV advertising campaign, resulting in the single reentering the charts in Europe and the compilation album 'Birds of Paradise' doing extremely good business for most of 1994.
Snowy's next album project was released on the UK record label RPM. Entitled 'Gold Top', after his well-known Gibson Les Paul 'Goldtop Standard' guitar, it features material in which Snowy has been involved from as far back as 1974 right up to 1996. This album includes two tracks from Thin Lizzy, jams from the Peter Green 'In the Skies' session (with Peter on 2nd guitar), Al Stewart live in Philadelphia (1974), and the only complete version of the Pink Floyd song 'Pigs on the Wing', featuring Snowy's original guitar solo (never before released), as well as some live Snowy White blues and some previously unreleased material. Dave Gilmour and Chris Rea also appear on tracks taken from his recent 'Highway to the Sun' CD. The album closes with the hit single 'Bird of Paradise'
Snowy then recorded three albums with his White Flames band, "No Faith Required' in 1996, 'Little Wing' in 1998 and 'Keep Out:We Are Toxic' in 1999.
Another compilation, entitled 'Pure Gold – The Solo Years' was also released in 1999.
Also in this year Snowy joined Roger Waters for his bands' 'In The Flesh' US tour, which was so successful that, in the Summer of2000, Roger again toured the States, this time recording a live album and making a film of the show.
Early in 2000 'Little Wing' was released in the States under the title 'Melting', and in July of that year Snowy White & the White Flames played a showcase gig at BB King's Blues Bar off Times Square in New York.
A final White Flames album (as a three-piece), entitled 'Restless,' was released in May 2002. Tracks include 'Blues is the Road', 'Restless', 'The Time Has Come', 'Soldier of Fortune', 'Softly', 'It's Your Life', 'New Day…Maybe,' 'You Can't Break My Heart' and 'Too Far Away'.
In the Autumn of 2008 Snowy formed The Snowy White Blues Project, with Matt Taylor (guitar/vocals), Ruud Weber Jnr (bass guitar/vocals), and Juan van Emmerloot (drums), recording a blues-orientated album, 'In Our Time of Living.' During 2009/10 the band were gigging throughout Europe. They released a live album 'In Our Time…Live' in 2010.
A new album, entitled 'Reunited', is available from October 2017.
"Something To Hold On To" – Turnpike Troubadours
Ever since a trip through Nashville last summer, our resident musicologist has been ever  negotiating the influence of the Laurel Canyon era to the more mainstream work of todays' crop of current alt-country, Americana artists who eschew "beer pong" tracks and Sam Hunt boppy synth rap with the more studied musicianship and mainstream chops of their Eagle/Poco/Buffalo forebearers.  This track is a perfect example of that.
More from Rolling Stone magazine:
Turnpike Troubadours are the definition of road warriors. For the past dozen years, the Red Dirt six-piece have built their reputation on the back of tireless touring, selling out honky-tonks and dance halls throughout their home state of Oklahoma and nearby Texas. They'll play over 100 shows this year, mostly to crowds of 4,000. At the heart of it all, though, is the band's songwriting.
Hear Turnpike Troubadours' Chugging New Song 'Pipe Bomb Dream'
Twangy, Western-tinged track appears on the group's upcoming album 'A Long Way From Your Heart'
"Songwriting is the most important thing to me. Everything else comes second," says Evan Felker, lead singer, guitarist and principle songwriter for Turnpike Troubadours. It was a love of the writing craft, in fact, that brought him together with bassist and bandmate R.C. Edwards more than a decade ago. "He was a songwriter before he was a bass player. I used to open for his band, we got to be pals, and that's how the band got started. Now I write with my friends."
Felker plays a bigger role than ever before in the creation of the Troubadours' new LP, A Long Way From Your Heart, writing or co-writing each of its 11 tracks. Out now, the record is filled with tales of blue-collar hardship and small-town heartache, but also an unwavering willpower — people forever "fucking up the status quo," as the narrator puts it on "Old Time Feeling (Like Before)."
"It comes from life, but not necessarily things that happen to me directly. I'd lead a pretty tragic life if everything I'd ever written had happened to me," Felker says, laughing. He points to the short stories of authors like Ernest Hemingway, William Faulkner and James Joyce as major influences in his own storytelling. "Those guys have recurring characters, which is a thing I learned from them. You can fill a little universe and a little canon. It's something you can get lost in."
There are plenty of characters to digest on A Long Way From Your Heart. Truckers, fathers, hunters and more than a few quarreling lovers — they all flash by in a manner fitting of a band forever headed for the next stop on the highway. Felker is the first to admit that the Troubadours' storytelling is often collaborative — "Old Time Feeling" and "Pipe Bomb," a song released earlier this month, were both co-written by Felker, Edwards and Texas songwriter Johnny Burke — but he has a preference for solo writing.
Now well past the point of self-preservation, the Troubadours brought in a new collaborator this time around with producer Ryan Hewitt, whose previous credits include Red Hot Chili Peppers, the Avett Brothers and Lumineers. "He's got an ear for music, like another member of the band, in a way. He really cares about the way a band sounds and representing the band's sound with the recording," Felker says of Hewitt. Working with the Grammy winner was more a matter of refinement than looking for a change in sound. As Felker puts it, "He definitely distilled it down to a little bit better liquor."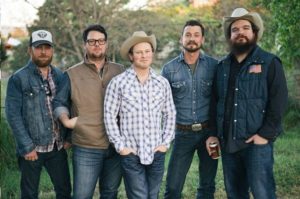 Staying true to the band's roots is simple, as far as Felker is concerned. "I really like music that can be played on a back porch somewhere. I want that to be the soul of our music," he says, pointing to albums like Van Morrison's Moondance and Jerry Jeff Walker's Riding High as works to aspire to. "I guess we're a country band. But I don't think Merle Haggard would say we're a real, traditional country band," he adds, thoughtfully.
Nonetheless, the Troubadours are unquestionably associated with the Red Dirt movement, and Felker is proud of the inclusion. "A bunch of my heroes invented [Red Dirt]. I have to be thankful to them; they paved the way for us to have any success in any manner at all," he says. Over the years, he's become friends with members of groups like Cross Canadian Ragweed and Great Divide, who inspired him to pursue his own career. "I probably would've done something else if not for those guys. I probably would've stayed at the mill. As a Podunk kid from Southeast Oklahoma, that was just inspiring."
Rising to Number Three on the country charts and cracking the Top 20 of the Billboard 200, the band's 2015 self-titled album was a commercial breakthrough, suggesting that the group may have a far bigger audience to tap beyond the Red Dirt circuit – and A Long Way From Your Heart is poised to propel the Troubadours further into the mainstream. Like its predecessors, the album is being released independently via the band's own label, Bossier City Records, with help from Thirty Tigers. But even a whiff of wider success doesn't change Felker and the Troubadour's rebel streak.
"It'd be awesome to be 20, 21 and sign a deal with a label and get out on the road. Because it's hard to get out on the road, it's hard to get gigs," says Felker. "But I don't think that's for me. You're going to get fleeced with a record deal, there's no way around it. I wouldn't give up the rights to my music, ever."