New Tracks on Laurel Canyon Radio – September 27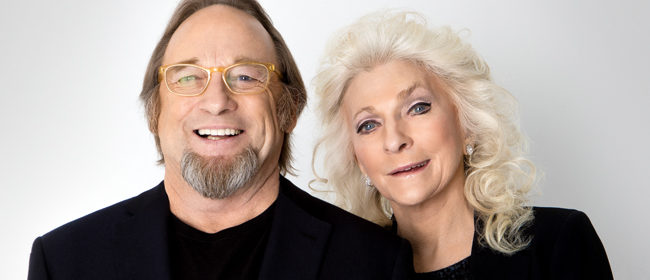 New Tracks On Laurel Canyon Radio Week of September 27
Summer turns to fall and with fall comes up boatloads of great new music from newcomers and oldtimes alike:
"Everybody Knows" – Judy Collins and Stephen Stills
A collaboration fifty years in the making, they may not be the spring chickens they once were, but Judy Collins and Stephen Stills go to town on this Leonard Cohen cover with a light yet spirited touch.  Stills, ever the craftsmen, let's Collins take the lead on vocals and it brings a different sound to both of them.   From the new album of the same name, the choice of covers "Girl From North Country", "Handle With Care", "Reason To Believe" may be pretty obvious low hanging fruit for the couple, but there deft vocals handle these classics with world weary aplomb.
"We Just Disagree" – Home Free
We'll be the first to admit that we have a warm spot in our hearts for good acapella music, not "Pitch Perfect" shh but capable stuff with a reverence for its source material.  And although Home Free is a product of the reality TV machine, this Dave Mason cover real satisfies the soul.  It could be argued that the original has never really benefited from a particularly great arrangement, just the blandly straight forward mix that AM radio served it up in back in the 70s.  The arrangement here is first rate and the vocal flourishes give it a sense of new urgency.
"Bring Me Back Home" – Jonny Lang
It has always been easy to dismiss Jonny Lang as a wunderkind teen guitar prodigy, but what surprises about the 36 year-old (!!) Los Angeles bluesman on his 7th studio album, is that song structure and vocals come center stage on a majority of the work here.  For those who have long dismissed Jonny Lang as one of those blues shredders, a second look is worth it here.
"Bidin' My Time" – Chris Hillman
From Gary Graff at Billboard
Chris Hillman's new album, the Tom Petty-produced Bidin' My Time, premiering exclusively below, "really fell into my lap" according to the Rock and Roll Hall of Famer.
Hillman — a veteran of the Byrds, the Flying Burrito Brothers, the Desert Rose Band and more — releases his latest solo set, and first in 12 years, on Sept. 22. Truth be told it came as something of a surprise to Hillman, who figured the recording part of his career was finished.
"I didn't think I would ever make another record — and that wasn't coming out of any kind of bitterness or whatever," Hillman tells Billboard. "I had some songs that I had not recorded, but I was sort of winding down. It was, 'OK, I've had a great 54-year career,' and looking at the way the business is at this point there was no reason to do another (album). I was very comfortable going out and doing shows with Herb (Pedersen)." Pedersen and Petty, meanwhile, had other ideas once they heard some of Hillman's songs.
"I had a conversation with Tom in the fall, November, and I said, 'Are you sure you want to do this?'" Hillman recalls. "And he was, 'Do you want me to?' I said, 'Well, yeah. Can you make the commitment?' and he said, 'Do YOU want me to do this?' 'Of course I'd love to work with you,' and he said, 'Great, we'll use my studio and everything.' I said, 'You haven't even heard some of the songs.' He said, 'I'm not worried,' and I was, 'Well, I'd be worried because I don't know if they're that good!' But everything worked out great."
Bidin' My Time is a kind of summing up of Hillman's long and varied career, incorporating the folk, bluegrass, country and rock styles he's touched on over the years. What was initially intended as an acoustic album grew with the addition of members of Petty's Heartbreakers and guests such as Pedersen, John Jorgenson, former Byrds mates Roger McGuinn and David Crosby and others. "All in all, it was a joy," Hillman notes. "I didn't have to tell them anything; They knew exactly what to play, and it was opening up on a day to day basis, the album. I've never had as much fun recording, and I think a lot of it has to do with there was really no pressure attached. I wasn't going after a new career or trying to get on the charts, whatever that means. It was just making music."
Bidin' My Time has plenty of notable moments. The cover of the Everly Brothers' "Walk Right Back" came after Petty heard Hillman and Pedersen fooling around with it between songs and insisted they record it. "The Bells Of Rhymney," with Crosby and Pedersen, "was always a very special song to me when the Byrds cut it…it really defined the Byrds sound, that song." McGuinn, meanwhile, joins Hillman for the Byrds rarity "Here She Comes Again," which the group played live but never recorded, and on which he Hillman plays bass for the first time in more than 30 years. "I had a ball doing that," Hillman says. "I never really get the opportunity to play bass anymore, so I had just a wonderful time. I missed it — but I just don't see ever putting a band together and doing that again."
Doing Petty's "Wildflowers," meanwhile, was an organic song choice, stemming from Hillman and Pedersen's performance of the song for Petty's MusiCares Person of the Year honor earlier this year. "After that I said, 'We should cut this song 'cause it's so comfortable for me to sing it,'" Hillman notes. "It wasn't any king of 'Thanks for producing us, Tom. Here, we're gonna do one of your songs.' I was hoping it would meet his approval, and he loved how we did it. It's such a great song…"
Hillman and Pedersen, joined by Jorgenson, will be hitting the road on Sept. 21, with more dates slated for 2018. Meanwhile, Hillman has also written a memoir — "Like every other aging musician," he quips — which he's rewritten to include Bidin' My Time. "Mine's about music," says Hillman, who hasn't signed a publishing deal for the book yet. "It's not about which guy died of drugs or this or that. It's about having that passion for music starting in 1963 when I got paid for the first time, $15. Every year I thought, 'Well, I'm going to go enroll in college,' and a door would open and I'd go through that door. It was an interesting journey, and hopefully people will find it interesting enough to read about."
Brisbane's Cub Sport's highly anticipated new album has been on our radar since they released the gorgeous, gospel/neo-soul inspired first single. Now we only have to wait until late September to hear the follow-up to last year's This Is Our Vice.  The album, titled Bats, was mostly written, recorded and produced by the band at home. Frontman Tim Nelson says it will be rooted in pop but further explore soul and RnB influences "making for our sexiest, most honest release to date."  He also described as "an intimate album inspired by personal experiences of growth, disappointment, self-doubt, partying, learning to accept and trust myself, coming out and falling in love."  Those themes are encapsulated in 'O Lord', which now gets a music video that reflects the single's spirit and deeply personal message of the single, starring Nelson and his partner/bandmate Sam Netterfield.  Tim wrote the hymnal last year after coming out and reconciling his sexuality with his friends, family and faith. "I feel like the O Lord video is the visual soulmate for the song," he says.  "It beautifully represents what the song means for me and it feels like a personal triumph! I was bullied when I was growing up because I wasn't as masculine as some of my peers apparently thought I should be. It's something I've been self-conscious about for years, so it's super liberating to make this video and feel free from judgement."