New Tracks on Laurel Canyon – Week of July 15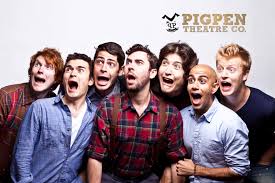 New Tracks On Laurel Canyon Radio Week of  July 14
"Let Me Go" – Pig Pen Theatre Company        
These groovy fellas (they're a theatre company AND a band) have recently been featured with the Mumfords on the Gentlemen of the Road Tour and will make their screen debut in the summer Meryl Streep-as-rocker-chick flick "Ricki Flash" (as the wedding band).  Their sophomore release "Whole Sun" features steeped-in-the-canyon goodness such as the luxurious opening track "Let Me Go".
"Don't Let Me Be Misunderstood" – Mary J. Blige
From the just released Netflix biopic of Nina Simone, which also features a much welcome return by Lauryn Hill, this lushly arranged remake by Blige creates its own memory, seemingly taking little inspiration from Simone's Stax-jacked version of the much recorded classic originated by Nina.  With remakes of this track littered all over the musical spectrum, it's hard to fault Blige for putting her own spin on it, even though Hill acts a little more respectful of source material on other tracks on the album.
"Wheelbarrow" – Kasey Chambers
Aussie country singer-songwriter Chambers has been screaming for US attention ever since landing on the Sopranos soundtrack album for the piercing title track "The Captain" from her debut album back in 1998.  Seventeen years down the road, she has continued releasing material and continues to be a sensation overseas, yet Americans might still be scratching their heads at the dusky voiced evocative singer/songwriter.  From the 2014 Aussie release "Bittersweet", Chambers is back at our door with this harmony heavy bit of Appalachian guitar clatter "Wheelbarrow".  While this track may not score her anymore Q points than of the many standout songs on her first eight albums (the guitar squall is somewhat reminiscent of the sound from "Barricades and Brickwalls") we'll continue to share her considerable talents with our audience.
"Southern Woman" – Marshall Tucker Band
MTB's 1974 sophomore release "A New Life" gets a reissue with sadly only one extra,  a live version of the previously released "Another Cruel Love".  Nevertheless "Southern Woman" and the other tracks on this sorely underrated follow-up to their debut smash really casts these fellows with one foot in jam boogie, another in straight forward country, while two other feet somehow captured Steely Dan-ish jazz rolls along with that Southern California acoustic/electric accessible pop sound that the Eagles liberated as their own shortly thereafter.  Great music that stands with all the other Laurel Canyon Music of that moment.
"Outta My Mind" – The Arcs
The theory that everything Black Keys' Dan Auerbach touches turns to gold could not be anymore true on this impressive single from yet another one of Dan's many side projects and producing gigs.  "Good morning children and welcome to school" kicks off this Black Keys-ish raveup.  This guy could produce the phone book and I would listen to it.  The Arcs album will be out in September.