New Tracks on Laurel Canyon Week of June 12

New Tracks – Laurel Canyon Radio – Week of June 12
If staring at the television and screaming at the injustice of it all has got you done these many months, why not try unplugging from the miasma of bad news and tune into some groovy new music that leapt across the transom at us this week:
"Watcher" – Ben Ottewell
While the band Gomez never really had its moment in the sun in the United States, the harmonizing prog-folk-rockers featured some of the hookiest Beatlesque ragged hippie tracks at the turn of the century and well into the aughts.  With four vocalists and three songwriters, their accessibility belied their lack of chart success.  Ben Ottewell, the gravelly-voiced soul of Gomez, releases his third solo album (the aptly titled more DIYish "A Man Apart")  and while his hooky pop sensibility is still intact, we long for the harmonizing and loping indie melodies and presence of his bandmates.
"Juma Mountain" – Sam Amidon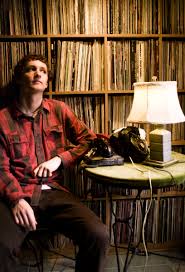 Folkster Sam Amidon unleashes this sweet, Nick Drake-ish backwoods number on us from his just released "The Following Mountain" album.  Folk, pop, jazz and indie aspirations crawl through this beautiful rendered track.  Surprise bit of trivia – Sam is married to singer/songwriter Beth Orton, another master of the hushed, up close to the microphone vocals Amidon also seems to favor.
"Holding On" – The War on Drugs
The War On Drugs will release A Deeper Understanding, its fourth full-length, late this summer, coming three years after the band's previous album, Lost In The Dream.
In announcing A Deeper Understanding today the band has shared a new single from the record, "Holding On," a pulsing jam that sounds deeply inspired by '80s-era Bruce Springsteen, with glockenspiel chimes set against gritty guitars and synths. It's the second track the band has shared from the upcoming album, after the release in April of a moody, 11-minute opus called "Thinking Of A Place."
"On Me" – Andrew Hyatt
This latest edition from the Modern Country hunk of the month club delivers a straight forward current and yet reminiscent muscled up country tune.
Witness – Benjamin Booker
Still attempting to defy all characterizations, Benjamin Booker has shared details for his new album 'Witness,' out June 2nd on ATO Records. The title track, Booker's most profound and incisive song to date, features a guest vocal by Mavis Staples, and is available now via NPR.
To coincide with the release of "Witness," Booker has shared a powerful personal statement recounting the song's origins on a writing trip he took to Mexico City, during which James Baldwin's observation that "Once you find yourself in another civilization you are forced to examine your own," took on the weight of experience.  "Am I going to be a witness?" Booker asks in the statement (and the song). "And in today's world, is that enough?"
On 'Witness,' Booker has created his most ambitious work yet by digging deep into his passion for eccentric soul, R&B, and blues – drawing on everything from William Onyeabor's 70s African psych-rock to Freddie Gibbs and Pusha T, while never straying too far from the garage-punk intensity that made his self-titled 2014 debut such a creative breakthrough. The album's ten new, original tracks were all written by Booker, produced by Sam Cohen (Kevin Morby), and mixed by Shawn Everett (Alabama Shakes).
Booker's self-titled 2014 album was ATO's best-selling debut since Alabama Shakes, earning him festival appearances and tour dates supporting Jack White and Courtney Barnett, performances on Letterman, Conan, and Jools Holland, and profiles with the New York Times, Rolling Stone, NPR, GQ, and more. The Times hailed the album's "raucous, unruly mix of punk, blues rock and soul, " and NPR's Fresh Air said "there's a raw yet disciplined energy running through" it.  SPIN simply called it "Contender for rock record of the year."