Ray LaMontagne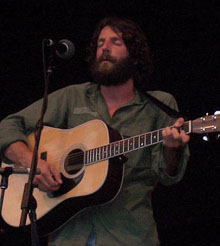 Photo credit:  Ray_Lamontagne3.jpg: Tammy Lo from New York, NY derivative work: TheCuriousGnome (talk) – Ray_Lamontagne3.jpg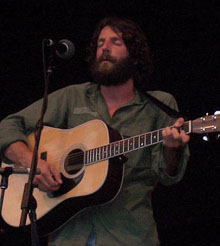 Raymond "Ray" Charles Jack LaMontagne (/lɑːmɒnˈteɪn/; born June 18, 1973) is an American singer-songwriter. LaMontagne has released five studio albums, Trouble, Till the Sun Turns Black, Gossip in the Grain, God Willin' & the Creek Don't Rise and Supernova. He was born in New Hampshire and was inspired to create music after hearing an album by Stephen Stills. Critics have compared LaMontagne's music to that of Otis Redding, The Band, Van Morrison, Nick Drake and Tim Buckley.
LaMontagne was born in Nashua, New Hampshire in 1973, one of six children raised by his mother. In his early teens he lived in Morgan, Utah and was more interested in drawing images of Dungeons & Dragonsthan in his school work. After graduating from high school, LaMontagne moved to Lewiston, Maine and found work in a shoe factory.[4] LaMontagne also spent a significant amount of time in Wilton, Maine.
LaMontagne was inspired to quit his job and begin a career as a singer-songwriter after waking up one morning to the radio on his alarm clock playing the Stephen Stills' song "Treetop Flyer". LaMontagne began performing in 1999, while maintaining a part-time job as a tutor.  In the summer of 1999, he recorded 10 songs for a demo album that was sent to various local music venues including Maine's Oddfellow Theater, where he was hired as an opening act for John Gorka and Jonathan Edwards.
A business executive introduced LaMontagne to Chrysalis Music Publishing and in 2004 LaMontagne recorded the album Trouble with producer Ethan Johns and sold it to RCA Records in the USA and Echo Records in the UK.[10] The album featured performances by Sara Watkins and Jennifer Stills, daughter of musician Stephen Stills. The album sold over 250,000 copies in the USA and 500,000 worldwide.
In 2005, he performed at two charity events, a New York City fundraiser for the victims of Hurricane Katrina and at the "Warren Haynes Christmas Jam".
LaMontagne's second album, Till the Sun Turns Black, was released in August 2006 and featured horn and string sections on several of the songs with Rachael Yamagata providing additional vocals on the song "Barfly". The album peaked at #28 on theBillboard 200 album chart, selling 28,000 copies in its first week of release.[18] The album spawned the single "Three More Days".
LaMontagne released his third studio album, Gossip in the Grain, on RCA Records in 2008; it debuted at #3 on the Billboard charts with 60,000 units sold. Working again with producer Ethan Johns, the album featured LaMontagne's touring band ofJennifer Condos on bass, Eric Heywood on guitar, and Ethan Johns on drums and guest vocals from singer/songwriter Leona Naess.
LaMontagne's self-produced studio album, God Willin' & the Creek Don't Rise (Ray Lamontagne and the Pariah Dogs), was released in August 2010.  In December 2010, LaMontagne received Grammy nominations and won the award for Best Contemporary Folk Album.
In April 2014 LaMontagne released his fifth album, Supernova. The album went to number one on the Billboard Top Rock Albums chart. It was produced by Dan Auerbach of The Black Keys and recorded at Auerbach's Nashville studio.
Style
LaMontagne has a unique vocal style, which he says is created by singing through his gut instead of through his nose. He cites Stephen Stills, Richard Manuel, and Rick Danko as strong musical influences while critics have compared LaMontagne's music to that of The Band, Van Morrison, Nick Drake, andTim Buckley.
Awards
For his debut album, LaMontagne won four awards, including three Boston Music Awards (Best Male Singer/Songwriter, Album of the Year, and Song of the Year) and an XM Nation Music Award for Acoustic Rock Artist of the Year. LaMontagne has received a nomination from the Pollstar Concert Industry Awards for Best New Touring Artist, the BRIT Awards for International Breakthrough Act, the MOJO Awards for Best New Act, and was given the title of Best Voice in 2006 by Esquire.
In December 2010, LaMontagne received two Grammy nominations and won the award for Best Contemporary Folk Album.
Controversy
On July 23, 2014, during a show at the Meijer Gardens in Grand Rapids, Michigan, LaMontagne interrupted a song and walked off stage as a result of two fans talking during his concert, after having previously asked the audience to quiet down. The incident included yelling profanity at the couple before walking off stage. Once the couple was escorted away, LaMontagne continued the concert.
Personal life
LaMontagne lives in a farmhouse in western Massachusetts with his wife, Sarah Sousa, and their two children. Sousa is a published poet via Red Mountain Press and his sons are budding artists. He refers to himself as a "very private person" and rarely gives interviews.