Bill Graham And The Rock And Roll Revolution Exhibit At Skirball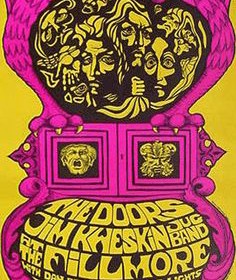 This exhibit, currently at the Skirball Cultural Center here in Los Angeles, is a great opportunity to experience an era of music and concert promotion that really spoke to the shared experience of listening to eclectic music.  Sure it laid the groundwork for all things Coachella and then some, but this is when there was one stage and you paid and got to see ALL the artists.  A great overview of rock in the Fillmore era (1966-1971) with some great rock and roll poster art and artifacts (!!) of that era.
About the Exhibition
Bill Graham and the Rock & Roll Revolution is the first comprehensive retrospective about the life and career of legendary rock impresario Bill Graham (1931–1991). Recognized as one of the most influential concert promoters in history, Graham launched the careers of countless rock & roll legends in the '60s at his famed Fillmore Auditorium. He conceived of rock & roll as a powerful force for supporting humanitarian causes and was instrumental in the production of milestone benefit concerts such as Live Aid (1985) and Human Rights Now! (1988). As a promoter and manager, he worked with the biggest names in rock, including the Grateful Dead, Jefferson Airplane, Jimi Hendrix, Santana, Led Zeppelin, and the Rolling Stones.
http://www.skirball.org/exhibitions/bill-graham-and-rock-roll-revolution#!/gallery:1661/image:4106