New Tracks On Laurel Canyon Radio Week of July 6

New Tracks On Laurel Canyon Radio Week of July 6
If it's hot enough for you this week (although global warming is still a Chinese hoax, so I am told), we've got some great new cool tunes to chill you out.
"Find Yourself" – Lukas Nelson & Promise of The Real
If you were waiting for the day when Willie's eldest son would pivot from noisy Neil Young noise-era jam bander to commercial darling, today is your day.    Nelson & POTR will release a set of soulful numbers on their eponymous release August 25 on Fantasy Records.  The lead single (streaming on RollingStone.com) and featured on our station is a straight ahead soul classic with uber-inspired backing vocals from none other than Lady Gaga herself.  While this song might have been a number one smash in the Laurel Canyon era, we'll accept it as a great stylistic leap forward for Nelson.
"Different Kind of Love" – Casey James
Speaking of barn-burning blue eyed soul stirrers from artists we didn't think had it in them, former American Idol pin-up model and runner-up Casey James crosses himself off the MIA list with "Strip It Down" (released June 9) and the lead single "Different Kind of Love".  Sharp edged blues guitar and gutsy vocals remind us that there were many legitimately talented artists on the six hundred seven (and counting) seasons of American Idol, and James was one of them.
"Feel It Still" – Portugal The Man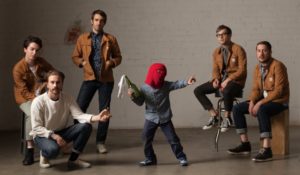 I'm a rebel just for kicks now.  Let me kick it like its 1986 now!  Yowza!  Love these guys!
"One Of These Days" – Bedouine
Azniv Korkejian is literally a world-traveling musician. The singer/songwriter was born in Syria, moved to Saudi Arabia as a child, and later moved to America, where she lived in Boston and Houston before settling in LA.
She studied sound design and has done quite a bit of work in Southern California in the arena of dialogue editing. A quick IMDB search reveals that she has dialogue edited for shows like "Preachers' Daughters" and "Ultimate Soldier Challenge."
For her self-titled debut album as Bedouine, she's joined by a very impressive cast. The album was produced by Gus Seyffert and features guitarist Smokey Hormel (who are both known for working with Beck and Norah Jones), it was mixed by Thom Monahan (Vetiver, Devendra Banhart) and Matthew E White is releasing it on his Spacebomb label. It's got gorgeous string arrangements by Spacebomb's co-owner and in-house arranger Trey Pollard, who also lent his talents to Matthew, Natalie Prass, Foxygen, and more. As you may expect from a team like that, the album hearkens back to '60s and '70s songwriting, and has a real smooth, calm feel to it.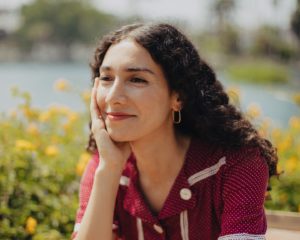 Though she's lived everywhere, it's appropriate that she ended up in LA, a breeding ground for a lot of music like this in the '60s (The Byrds, Linda Ronstadt, John Phillips, Tim Buckley, etc). If you like that stuff, you'll probably find that Azniv does a lot of justice to that sound. Early highlight One of These Days is so instantly familiar and instantly pleasing, that you'll be checking to make sure it's not a cover from that era. (It's not.) Solitary Daughter has a spoken word/poetry feel to it, like Leonard Cohen or the trippier side of Paul Simon. "Summer Cold" embraces dark, queasy melodies, almost sounding like a psych-folk singer covering Billie Holiday. Songs like that prove that Bedouine is anything but a one-trick pony.
J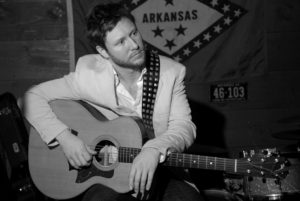 "Chameleon Moon" – Cory Brannan
I've been rooting for Mississippi singer songwriter Cory Branan to break through for fifteen years on now, ever since his debut "The Hell You Say", a record I've seen in the $1 bins at Amoeba Records more times than I care to say and each time first crossed my path.  I often think, if a talent like the versatile and amiable Branan is in this bin, how many other amazing musicians am I overlooking….With his fifth full length release, "Adios" now out, I found this delicious cut as the one we want to curl up to while driving up Lookout Mountain on the way home.  Well, maybe not curl up to while driving, but it's a beautiful executed track and we hope